About Tupelo Community Forest
Recreation & Conservation
This forest was the land of the Mohican and Mohawk nations until 1708, when a British royal governor awarded it to a group of investors based on a fraudulent deed. In 1786, Greenfield's broad valley attracted migrants from New England who cleared the old-growth forests by 1820. Civil War veteran Jesse Lewis bought the nearest 50 acres in 1865 and farmed it with his wife Melissa and their son John. They raised corn, oats, buckwheat, apples, potatoes, beef, pork, and poultry. Butter and eggs brought cash at the Greenfield Center store. By the mid-1900s, as automobiles allowed country dwellers to commute to jobs in nearby towns, second-growth forest overtook these remote pasturelands, and Fred G. Selch added this to the many woodlots that supplied his Kings Station sawmill. (Special thanks to Field Horne of Saratoga County History Center, Ron Feulner of the Town of Greenfield, and John Greenwood, for their assistance researching the history of Tupelo Community Forest.)
Today, recreation and conservation are this forest's focus. Visitors and residents of Upstate New York's fastest-growing county can enjoy mountain biking, hiking, and cross-country skiing on these trails. The woods and waters here, the headwaters of the Snook Kill, provide vital habitat for diverse wildlife including bald eagles, moose, porcupine, beaver, and red eft. Tupelo Community Forest takes its name from the tupelo trees (nyssa sylvatica) in adjacent Lincoln Mountain State Forest, estimated to be 800 years old. (Special thanks to Jackie Donnelly and Vince Walsh for their scouting and Jackie for her blogging about Saratoga County Woods and Waters, particularly the Tupelos.)
Why Here & now?
Saratoga PLAN, OSI, Alta Planning, and Bernuth & Williamson published the Southern Palmertown Conservation and Recreation Strategy in October 2018. The vision laid out in that document inspired many for "what might be possible" in this amazing area. The people who've hiked and mountain biked in this area, including at Daniels Road State Forest's 30+ miles of technical trails, have known this a long time. As the pandemic spurred demand for outdoor recreation in Saratoga County, groups such as Saratoga Shredders and Open Air Sports starting up to introduce a new generation of local kids to the woods. The property that is now Tupelo Community Forest had been for sale for over a year before a local family purchased it in 2020 and partnered with Wilderness Property Management to design and build the trail system that is now open to the public.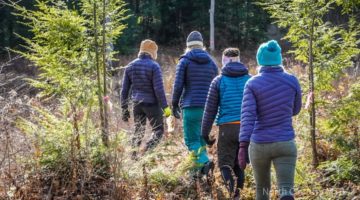 Conservation
The Southern Palmertown Conservation and Recreation Strategy explains in detail the conservation benefits that the Palmertown Range—including Tupelo Community Forest—encompasses. On your visit, if you look closely you may see tracks, scat, or other evidence of many kinds of animals. Bald eagles, great blue heron, moose, porcupine, beaver, fisher, and red eft are just a few of the species who call these woods home. The wetlands here are the headwaters of the raging Snook Kill falls, just 2.3 miles east of TCF.
Stewardship
Saratoga PLAN and Saratoga Mountain Bike Association (SMBA) steward Tupelo Community Forest. (Thank you!)
Please support these worthy non-profit organizations that are helping to keep these trails (and many others) open for everyone.
Thanks to North Country MTB for several photographs on this website. Thanks to Bacigalupo Trucking & Excavating for building the parking lot and to Afsco Fence for installing the gate. Thank you to Bill Sprengnether at Alta Planning for designing our signage.